Dreamwielder will turn 10 in March, 2023 🤯 
To celebrate, I'll be hosting a series of promotions and giveaways 
Read Dreamwielder again, gift the book to others, or discover it yourself for the first time 
As always, I encourage you to buy local to support your local bookstore and community 
Keep reading below for a retrospective on the book series so far, and what's coming next 
One of those Facebook memories popped up on my feed a few weeks back. It was a photo from the book launch party for my epic fantasy novel Dreamwielder. The first thing I noticed was how much thinner I was in the photo and how much less gray hair I had in my beard. The next thing I noticed was the date. The photo was from nearly 10 years ago, which couldn't possibly be true, could it?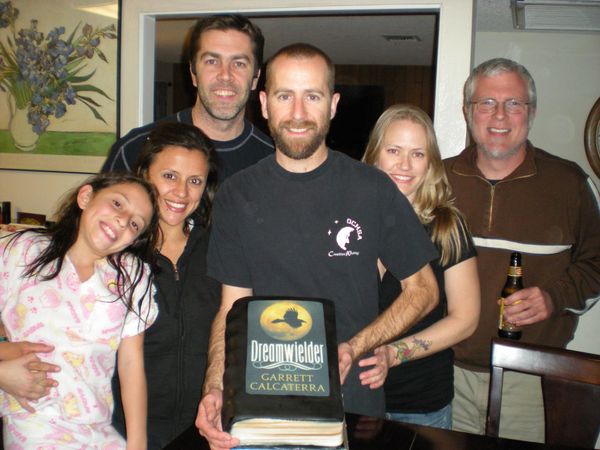 Garrett Calcaterra and friends at Dreamwielder's launch
party with a cake sporting the novel's original cover.
True it was. A quick bit of research showed that Dreamwielder was first published on March 5, 2013. It doesn't feel nearly that long ago, but at the same time, a lot has happened in my life—and the world—since then. 
I quickly followed up Dreamwielder with a sequel, Souldrifter, which came out two years after the first book, with newly designed covers for both books in the series and a change in the strategy from the publisher to start marketing it as a young adult (YA) novel rather than an all-ages fantasy adventure (more on that in a moment). 
Around the same time, my long-time girlfriend, Mandy, and I got married and moved from southern California to the Bay Area. We had a baby. To make ends meet and ensure we had affordable health insurance, I changed careers, leaving behind teaching and freelancing to work full-time as a copywriter for a tech company. Then the pandemic hit.  
I've been more fortunate than many. My family and I have maintained good health. I not only kept my job, but got promoted to Editorial Director at SpotOn where I now lead a team of five amazing writers for a company that genuinely cares about helping local businesses and their employees adapt to our changing world. It's rewarding work. It's gratifying to finally get paid what I feel I'm worth. But at the same time, it is demanding work. 
Seeing that Facebook memory of Dreamwielder's launch has brought into sharp focus how far apart the lofty expectations I had at the time are from the reality of where my novel writing career is 10 years later.  
Dreamwielder got off to a strong start back in 2013 as an ebook only, quickly garnering a Nook First placement on Barnes & Noble's website. Initially, sales were good enough for the publisher to invest in an Audible audiobook edition and a trade paperback edition—and for my agent to negotiate a deal for the sequel. I was full of confidence and optimism that my writing career was about to skyrocket. 
Alas, I was very green in the world of self-marketing. I didn't know how or where to start with promoting the book. While my work ethic was impeccable when it came to actual writing, I had put in very little effort when it came to connecting with other people within the broader science fiction and fantasy community. By time I finished writing and getting through edits of book two, Souldrifter, sales had dwindled to the point where the publisher, my agent, and I agreed that a new strategy was in order. Dreamwielder got a new cover treatment to match Souldrifter's, and we put our efforts into marketing the series as YA titles. We secured a promotion with Wattpad, which was newly hot and growing in popularity with young readers. We gave Dreamwielder away for free on the site and I hosted a book-club style read along. 
Dreamwielder quickly jumped in popularity on Wattpad, but giving it away for free never led to the corresponding boost in sales for book two that we were hoping for. And now here we are, seven years later.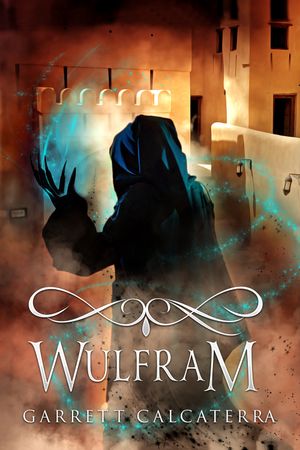 Wulfram, a prequel short tale, was published in 2016.
Get it free here on the Downloads page or buy on Amazon.
Along the way, I abandoned the near-future cli-fi novel I was writing (because climate change caught up to us too fast and the book ceased to be science fiction). I'm a long way from finishing my steampunk/lost-world/fantasy novel I've been working on for years. And book three in The Dreamwielder Chronicles is little more than a rough outline and bunch disparate scenes in my imagination. 
It'd be easy to feel disappointed that The Dreamwielder Chronicles didn't turn into a runaway success like I hoped, but with age comes perspective, and the truth is I feel grateful—and hopeful. 
Dreamwielder has sold well over 10,000 copies (print and ebook versions combined), which may not sound like a lot, but is actually a solid sales run for a debut novel. On Wattpad, the book has over 290,000 chapter views. It has a 4.1 star rating on Amazon and 3.92 star rating on Goodreads. Souldrifter is rated even better with 4.6 stars and 4.46, respectively. Add it all up, and a lot of people have read the books and generally like them. As an author, that's all you can ask for.  
And here's a fun little secret: I'm far from done. I still have my best writing years ahead of me, and while I haven't been writing much fiction over the last several years, I have been writing and editing on a daily basis for my day job. I'm excited for the future—both to get back to writing fiction and to celebrate Dreamwielder. 
So please help me in spreading the word. Read The Dreamwielder Chronicles again, gift the books to loved ones for the holidays, or discover it yourself for the first time.