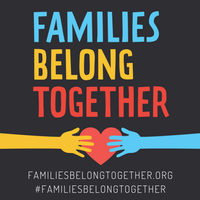 Like many, I've been watching in horror what's been happening to immigrant families crossing the border from Mexico into the United States. It's filled me with rage, disgust, and a sense of powerlessness. 
Equally disgusting has been witnessing the slew of Americans justifying or otherwise rationalizing that separating parents from their children simply for fleeing dangerous situations in their home countries is somehow okay. It is morally reprehensible, and I will not associate with anyone who voices those opinions. 
That includes the editor/publisher of a moderately popular anthology that I have story published in. I won't name the editor because I have no desire to give them free publicity, but when I saw this editor write multiple social media posts justifying separating families, I knew there was something I could do about that. 
I immediately contacted Amazon to have the book removed from my author profile, and I removed all references to the publication in my marketing material. I will take no part in promoting the book or helping a bigot gain financially from my work. 
I'm donating all my royalty shares from the anthology to charity to help end the President's zero tolerance border crossing policy and also reunite families. This includes past royalties I've already received, as well as any future royalties. Granted, it's not much, but it's what I can afford to do at the moment, and even as a symbolic gesture, it's an important one. 
I will independently publish a free ebook version of my story that's included in the anthology (second printing rights have reverted back to me). That will enable readers to access it without having to purchase the anthology. 
As I mentioned in point 2 above, all of these are largely symbolic gestures, but that is largely the point. As a society, it's important that we speak out against hate and intolerance, and then take whatever direct action we are individually able to. As a writer, this is what I can do: I can speak out, I can spread the word, and I can contribute a small financial sum to support people doing the hard work. 
If you can do more, great, do it. There's a call for immigration lawyers who can do pro-bono work. Familiesbelongtogether.org is organizing protests nationwide on June 30th. There's a #ProtestICE movement if you want to participate in locking down every local ICE center across the nation (more info in this Twitter thread, and make sure you know the risks involved in this sort of protest). If you can donate money, this Slate article has a listing of worthy charities doing good work. 
Do what you can and don't stop until the President is gone, his cabinet is gone, ICE is dismantled, and those 2,000+ children are reunited with their families. #FamiliesBelongTogether 
-Garrett Calcaterra