It's been a long while since I've posted a writing update—seven months, to be precise. I wish I could say it's because I've been head-down finishing up work on a pair of new books, but, alas, I've been consumed with other responsibilities. Long story short, being a parent of a toddler has made it harder to be a productive fiction writer than I anticipated, and over the last year, I've made little progress on that front. I know that's going to disappoint readers, but so life goes. I'll get back on track eventually, and in the meantime, I have a couple of little nuggets to hopefully keep people from forgetting I exist, starting with a free spooky October read! 
Get Lake Town Free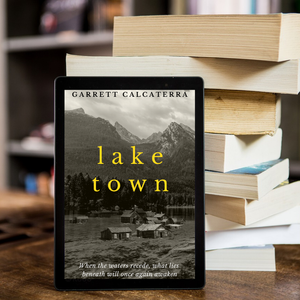 Back in June of 2018, I pledged to donate all proceeds from my novella Lake Town to charities supporting immigrant rights. I made good on that pledge by donating my first royalty check to #FamiliesBelongTogether charities, but it took me a while to finalize the second half of my promise and independently release Lake Town so no one needs to purchase it from the original publisher (and it's bigoted editor who has publically supported separating and detaining immigrant families).
I'm glad to say that I've finally fulfilled the second half of my promise. The book is now available on its own, and available for free! You can download it right here on my website from the Downloads page, or find the Kindle version on Amazon, where it's free through Saturday, October 5, 2019. The story is spooky and more than a little twisted—perfect for a pre-Halloween read.
Beyond Lake Town, what have I been up to? Here's a quick rundown:
Zero, zilch, nada. Book 3 of the series is not under contract, meaning I have no deadline for it, and with little time to spare for writing at all, I simply haven't worked on the final chapter of Makarria, Caile, and the rest of the Dreamwielder crew.
The Beasts of Qaza (working title)
I actually have made a little bit of progress on my dino-punk novel and received my first rounds of feedback from my two writing groups on chapters 1 - 3. Having said that, it's slow going and I'm a long ways off from finishing. 
Remember the Future
Long time readers of my blog know that I shelved this cli-fi work-in-progress several years ago. But...after rereading the opening chapters a few months ago, I realized that portions of it could be adapted into a short story or novelette. I've made good headway on that front and almost finished, with only the last scene to write to finish it off. I hope to do just that over the next couple of weeks and then focus primarily on finishing my dino-punk novel.
Most of my waking hours are spent working at my day job, and while I'm finally getting paid well, the Bay Area ain't cheap, and living for years on a freelancer's income, not to mention having a hefty hospital bill from having a baby, have left my partner and I with lots of bills and little discretionary income. So yeah, we started a side project, ProNowHow.com, a site dedicated to how-to articles and do-it-yourself projects. The site is still very much in its infancy, but we hope to build it up over time and hopefully generate a little residual income for the long-term.
The band I play in (also with my wife), has actually been quite active, playing regularly over the last year and even getting back to writing new songs. In face, we have a new song, "I Wonder," which should be released in the coming months. As far as live performance, our favorite show over the last six months was in San Francisco at The Utah. You can check out a clip of our performance below. Otherwise, that's all from me for the time being. Hopefully I'll be more productive and have updates on a more frequent basis through the winter. Cheers!